Gabriel Bismut & Maurizio Minardi Quartet
8 April 2022 @ 20 h 30 min
18€ – 20€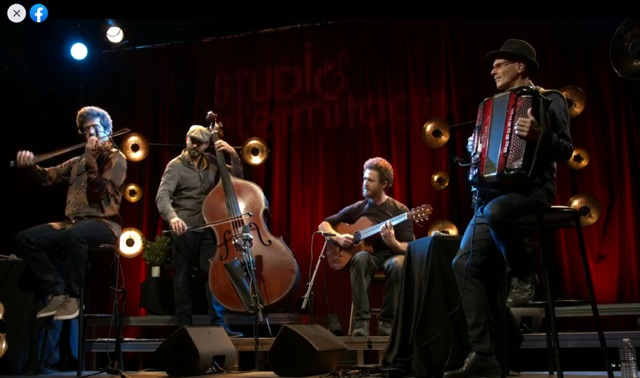 "Le Chat Brel"
Gabriel Bismut (violin, viola), Maurizio Minardi (accordion, piano),
Barthélemy Seyer (guitar), Maurizio Congiu (bass)
Always eager for contrasts, the French violinist / violist Gabriel Bismut and the Italian accordionist / pianist Maurizio Minardi dive into popular music from France, Italy, Argentinian tango, Latin waltzes and Baroque rhapsodies, and make a blend of their own.
They will present their first joint album, "Le Chat Brel", within their acoustic jazz quartet.
"Le Chat Brel" (Cat-Brel) is a reference to Chabrol and to the cinema of the french "nouvelle vague", along with the expressiveness of Jacques Brel and the elegance and carefree nature of a feline.
The passion for movies is indeed omnipresent in their original compositions, which oscillate between a light humor and a strong intensity, while remaining, like a film of the "nouvelle vague", sincere and without artifices.
VIDEO LINK:https://youtu.be/Ae3BEPQuDO4
TICKET: 18€ Members – No Members 20€