HEINRICH VON KALNEIN & MERETRIO
2 April 2022 @ 20 h 30 min
18€ – 20€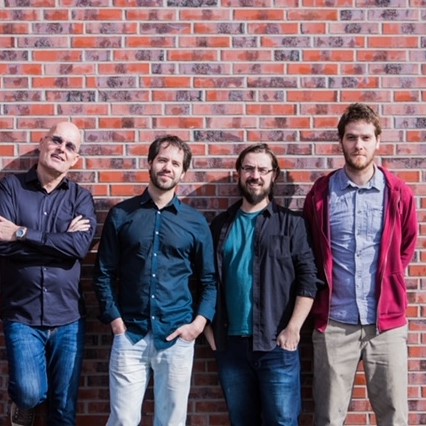 PASSAGEM – fusion of jazz, blues, rock
Heinrich von Kalnein (sax, flute), Emiliano Sampaio (guitar),
Gustavo Boni (bass), Luis André de Oliveira (drums)
The saxophonist and flutist Heinrich von Kalnein has been one of the most important assets of the German-speaking jazz scene for many years. His artistic profile as a performer as well as a composer shows a remarkable combination of stylistically open artistic curiosity and a demand for quality of the highest order. His decades of musical work with numerous ensembles under his name, currently Kalnein / López / Schwarz – Into The Now! as well as his activities as co-leader of the internationally acclaimed JBBG – Jazz Bigband Graz have made him a permanent fixture on the European jazz scene.
The Brazilian guitarist Dr. Emiliano Sampaio was already a successful young musician in São Paulo before he came to the Graz University of the Arts for a master's degree in jazz composition and a doctorate. With his Meretrio, founded in 2004, he developed a very unique music in which Brazilian melancholy is combined with jazz musical sophistication. In 2016, Meretrio's sixth CD "Óbvio" was released with Heinrich von Kalnein as guest soloist. The press reacted enthusiastically, the American Downbeat Magazine awarded 4 stars and ranked "Òbvio" in the Best Albums of the Year 2017 category.
In March 2018, the Meretrio went on tour for the first time with Heinrich von Kalnein. While there, the four seized the moment and recorded their first jointly produced CD "Passagem" (© 2019 Natango Music) at Germany's renowned Bauer Studios, which is characterized by lightness, virtuoso interplay at the very highest level and an enormous richness of color.
"…inspires a fusion of jazz, blues or rock that opens many windows." (CONCERTO)
VIDEO LINK:https://www.youtube.com/watch?v=G-H-MzHR1sk
TICKET: 18€ Members – No Members  20€