Dit evenement is voorbij.
New project : EVIGS
7 juni 2022 @ 20 h 30 min
Gratis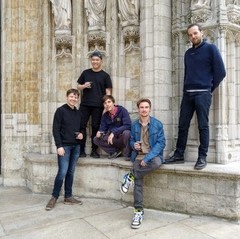 Followed by Jam Session
Maxime Dereux (sax), Thomas Sagne (guitar), Jerry Kuan Yu (piano),
Sebastien Hugue (bass), Rob Swennen (drums)
EVIGS is a modern jazz quintet founded in the conservatory of Brussels.
With curiosity and an experimental attitude, they bring a fine jazzy mix of swing, groove and odd-meters. The energy this concurrence releases is exciting and puts you at the edge of your seat!
FREE ENTRANCE