The Spirit of the great American Songbook
10 décembre 2022 @ 20 h 30 min
€18 à €20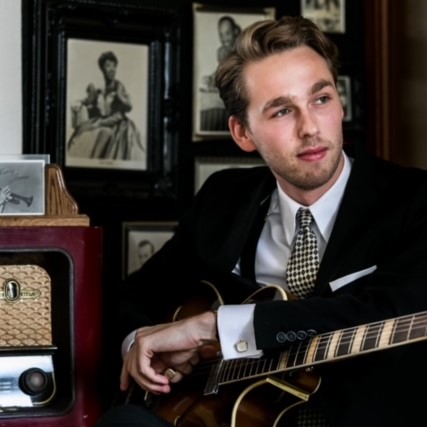 Tijn Trommelen Quintet
Tijn Trommelen (guitar/vocals), Peter Verhas (sax), Chris Strik (drums), Stijn Wauters (piano),
+ guest bass
Tijn Trommelen is a man on a mission. Growing up in a family of (jazz) musicians, he immediately was certain of becoming one himself.
Starting off as a guitarist, he later on found another passion: singing. Inspired by the composers of the past, he is now also writing his own songs with the spirit of "The Great American Songbook" in mind.
His music is timeless, romantic, swinging and joyful. His playful and charismatic performance will make sure everybody will be taking part in his musical journey.
While bringing refreshing energy into the jazz scene, he is dreaming of making jazz pop music again.
Besides already working in the field as an (inter-) national jazz musician, he is also working on a lot of new music at this moment.
TICKET: 18€ Members – No Members 20€