The most convenient parking lot is the INTERPARKING Grand'Place.
Come out on place de l'Agora, cross the Grand'Place, look up and you can't miss us!
METRO : station "De Brouckère" (100 m from the Club)
BUS : 29  38  46 47 63  66  71  88
The Club is open to all : Members and non-Members alike.
However, members benefit from special privileges :
Thanks to an agreement with INTERPARKING, Members can park their car
in the PARKING GRAND'PLACE at the cheap rate of 6 € from 6 pm to 1am.
(special voucher available at the Welcome Desk of the Club)
for location, see ACCESS / PARKING
Members get a reduction of 2€ (weekend) 3 € (week) on all major concerts
A single Membership is valid for 1 person + 1 guest (any Member may invite ONE GUEST per concert). The Guest also benefits from the reduced admission charge and parking facilities.
Annual MEMBERSHIP FEE (12 months) :  12 €.
You can apply for membership on your very first visit to the Club, get your membership card at the Welcome Desk, and benefit from all the advantages directly.
The Bar of the Club offers various assortments of soft drinks, cocktails, teas, wine, whiskies…We serve Club hot & cold meals "à la carte" from 7.30pm and during the concert. Last food order : during the first break (around 10 pm).
Accompanied children are welcome. Under 10 : no admission charge requested
Every night, we put discounted tickets on Arsene50
Groups of min 20 to max 40 people which would like to attend one of our programmed concerts : ask for seats availability and special rates for TICKET and CATERING.
Please fill in the form below.
For larger groups, companies events or tourists operators, please refer to the section RENT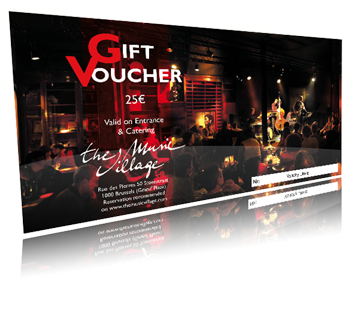 Offer a Jazz Experience to your friends, family or relatives :
Printed vouchers are available at 25€ each, valid one year on TICKET and CATERING
Get it at the Club Welcome Desk or by email.
HOW CAN I BOOK MY SEAT?
The Music Village is a 100-seats comfortable concert hall which offers a club catering and bar. Seats can be booked preferably via the reservation form
DO I NEED TO PAY MY BOOKING IN ADVANCE?
No
IS THERE AN ADMISSION CHARGE TO ENTER THE VILLAGE?
Except on Tuesdays, all the concerts are paying
WHAT IS THE PRICE OF A CONCERT?
Admission charges range between 15€ to 25€ according to the program
ARE CHILDREN ADMITTED?
Yes, children are welcome. See the special rates
ARE THERE SPECIAL RATES FOR STUDENTS?
Yes, See the special rates
DO YOU ACCEPT CREDIT CARDS?
Yes (VISA, DINERS, AMERICAN, MAESTRO, …)
CAN WE EAT IN THE VILLAGE?
Yes, from the opening onward (7pm) you can have dinner before or during the first set of the concert. Dinner is not compulsory. 
Discover our menu here
WHEN DOES THE VILLAGE OPEN?
The Club opens at 7.30pm.
WHEN DOES THE CONCERT START?
Concerts start at 8.30pm.
HOW LONG DOES A CONCERT LAST?
Concerts usually consist of two 45-minute sets (end at about 11pm).
The Music Village is the premier jazz club in Brussels located in the historic heart of the Belgian capital next to the famous Grand Place. It features live music six days a week, from Tuesday through Sunday, all year long, with more than 300 live concerts per year.
In particular, The Music Village is renowned worldwide because it attracts not only jazz lovers but also an even wider popular audience. What's more, the club's hospitality is warm, comfortable and international.
Top musicians from Belgium, Europe and around the world perform passionately in the club's 100-seat setting that is acoustically and artistically optimal.
Musicians and audiences come together intimately through mutual enjoyment of jazz and genres of jazz. The Music Village suits a variety of musical tastes such as jazz fusion, Afro, Brazilian, Cuban and gypsy jazz, as well as blues, rhythm & blues, New Orleans and funk, among other world music.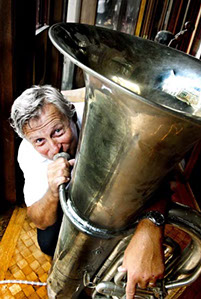 Since opening in 2000, The Music Village has hosted more than 4,000 live concerts, including a long list of legendary musical and recording artists. It has further entertained over 200,000 guests from more than 105 countries. This international jazz club, which has earned a highly respected reputation, is officially recognized in Brussels as a major cultural venue. It is also acclaimed as one of "the top 3" jazz clubs in Europe by CNN Travel
For more than 15 years, The Music Village welcomes young jazz musicians and singers to its stage and continues to support their artistic development.
Every Tuesday of the year, The Music Village features a Jazz Jam for young local and international musicians. Every Wednesday, all year long, the club provides Carte Blanche to a rising star on the Belgian and international jazz scene. In addition, the club allows free entrance. It further facilitates a wide audience to connect with young up-and-coming jazz talent as they showcase their creative energy and innovation in a world-class performance venue
The Music Village, founded by Paul Huygens who passed a few years ago, is a splendid old fashioned Jazz Club. Paul's wife Lucie Saeys continues to grow the club's reputation as one of the world's foremost jazz clubs attracting music audiences of all ages 52 weeks a year. Guests enjoy outstanding entertainment enhanced by a Belgian flavors menu and a great bar.