Dit evenement is voorbij.
NEW ORLEANS NIGHT OWLS
september 1 @ 20 h 30 min
18€ – 20€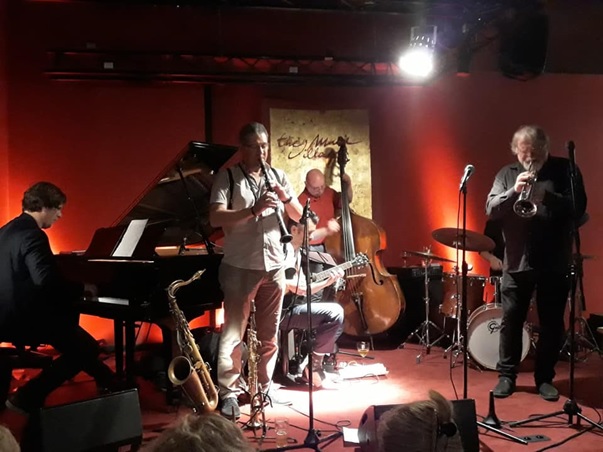 Dirk Van Der Linden (piano), Peter Verhas (reeds), Bart Vervaeck (guitar),
Stef Willems (bass), Frederik Van Den Berghe (drums), Joris De Cock (trumpet)
Playing trumpet in different bands, Joris De Cock started in 1989 his own band NONO playing New Orleans Revival jazz! NO-music is defined as "a simple melody with a beat" played the spontaneous charming way for entertainment. "Music for All Occasions!" means functional for concerts and party's!
Many visits to the Crescent city offered the chance to work with native musicians. Some of them became close friends. And when the older generations retired; a lot of younger musicians introduced music from R&B later artists This explains why beside the music from traditional bands as the Paul Barbarin and Louis Armstrong all stars, NONO's program is inspired by giants as  Fats Domino, Dave Bartholomew, Louis Prima, Dr. John, "Fess" Longhair, Ray Charles, Harry Connick jr,…  And yes: they're all from – or strongly connected to – the Crescent City!
TICKET: 18€ Members – No Members 20€