Dit evenement is voorbij.
NEW ORLEANS NIGHT OWLS
juni 24 @ 20 h 30 min
18€ – 20€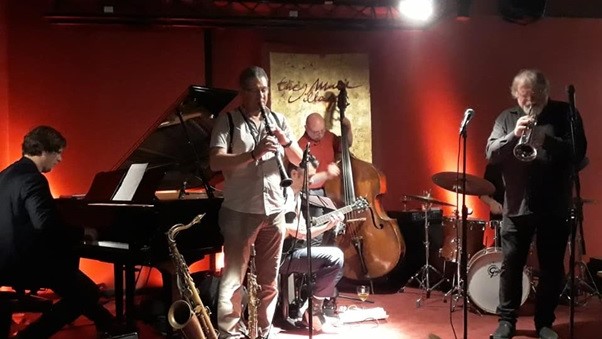 Dirk Van Der Linden (piano), Peter Verhas (reeds), Stefan Willems (bass),
Peter Hermann (drums), Joris De Cock (trumpet)
Founded 07/05/1989 by Joris De Cock with a heart for New Orleans Revival jazz!
NO-music is basically "a simple melody with a beat" played the spontaneous charming way for entertainment. "Music for All Occasions!" means good for concerts and functional on party's! Next to Classic Dixieland tunes popular songs came to the scene – not always appreciated by Jazz fanatics – but a  lot of popular hits from film and musicals became jazz-standards e.g. "My funny Valentine". This explains why beside traditional-jazz tunes NONO's program is inspired by artists as Louis Armstrong, Fats Domino, Dave Bartholomew, Louis Prima, Dr. John, "Fess" Longhair, Ray Charles and some Blues giants…  and yes: they are all connected to the Crescent City!
TICKET: 18€ Members – No Members 20€