Dit evenement is voorbij.
Tribute to Chic
augustus 10 @ 20 h 30 min
15€ – 18€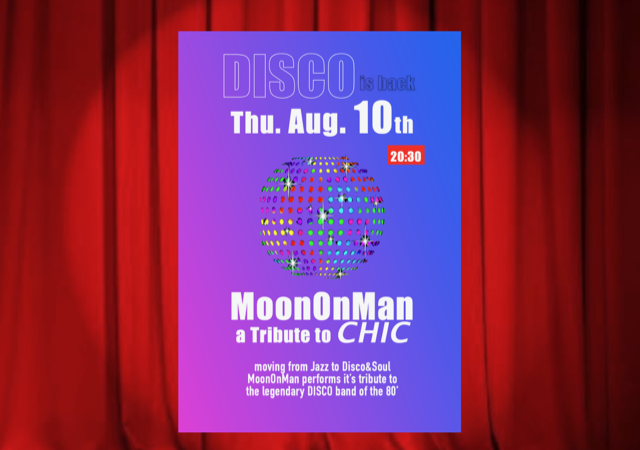 MoonOnMan
Sostice (vocals), Guy Rens (piano), Mike Florida (drums),
Philippe Declercq (bass), Marc Deprez (guitar)
MoonOnMan performs it's Tribute to the legendary band of the 80ies called CHIC.
Formed as the Big Apple Band in 1972 with Guitarist Nile Rogers and bassist Bernard Edwards, Chic released their self-titled debut album
in 1977 and became since that moment one of the biggest band of the late Disco era.
Inspired by Roxy Music, Chic developed a sound that was a fusion of jazz, soul, and funk grooves with melodies and lyrics with a European influence. Rodgers wrote and produced music for other artists such as Diana Ross, Sister Sledge, David Bowie, INXS, Duran Duran, Madonna, and lots more.
Rodgers & Edward had written, produced, and performed on albums that have sold more than 500 million units and 75 million singles worldwide !!!
TICKET: 15€ Members – No Members 18€